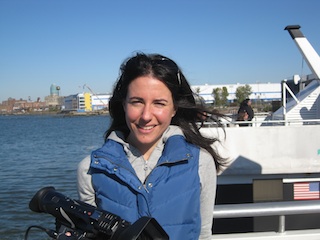 Dana Kochnower is a freelance video journalist with 15 years of experience covering hard news, features and business.
She started her career in local news at WPIX-TV in New York City, where she won an Emmy as a segment producer on 9/11: America Remembers. Dana spent time at CNN before launching the online video department at SmartMoney.com, which was named an official honoree of the Webby awards in its first year of operation. In 2007, Dana was part of the team that launched the FOX Business Network. As the Senior Producer for Digital Video at FOXBusiness.com, she helped create and produce FBN's daily live-streaming web show, FOXBusiness.com LIVE!
Dana is pursuing a Masters Degree in Marine Biodiversity and Conservation at Scripps Institution of Oceanography and has a professional certificate in Conservation and Environmental Sustainability from Columbia University's Center for Environmental Research and Conservation.
Trained in one-man-band visual storytelling at the Maine Media Workshop, she brings an innate curiosity and creative approach to shooting, producing and editing.
Click here to check out Dana's Vimeo Channel: